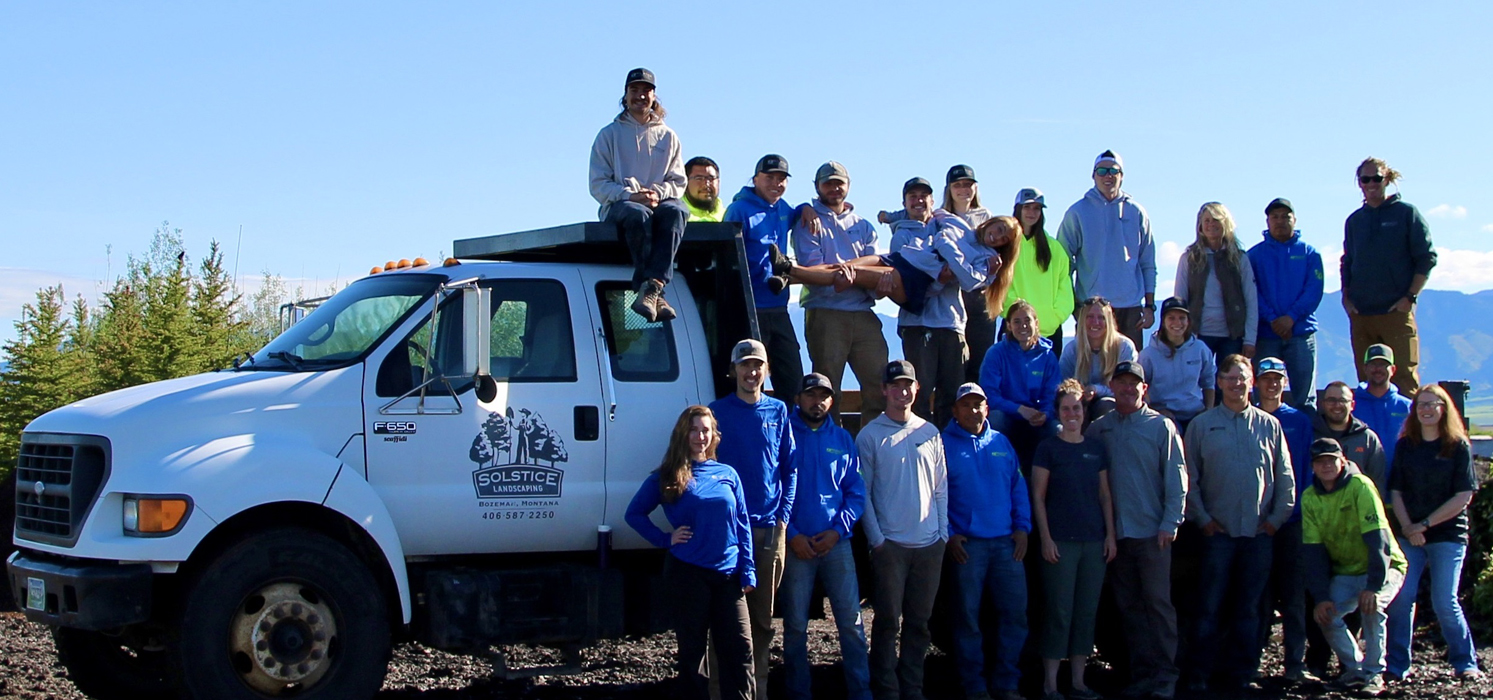 Landscape Job Big Sky, MT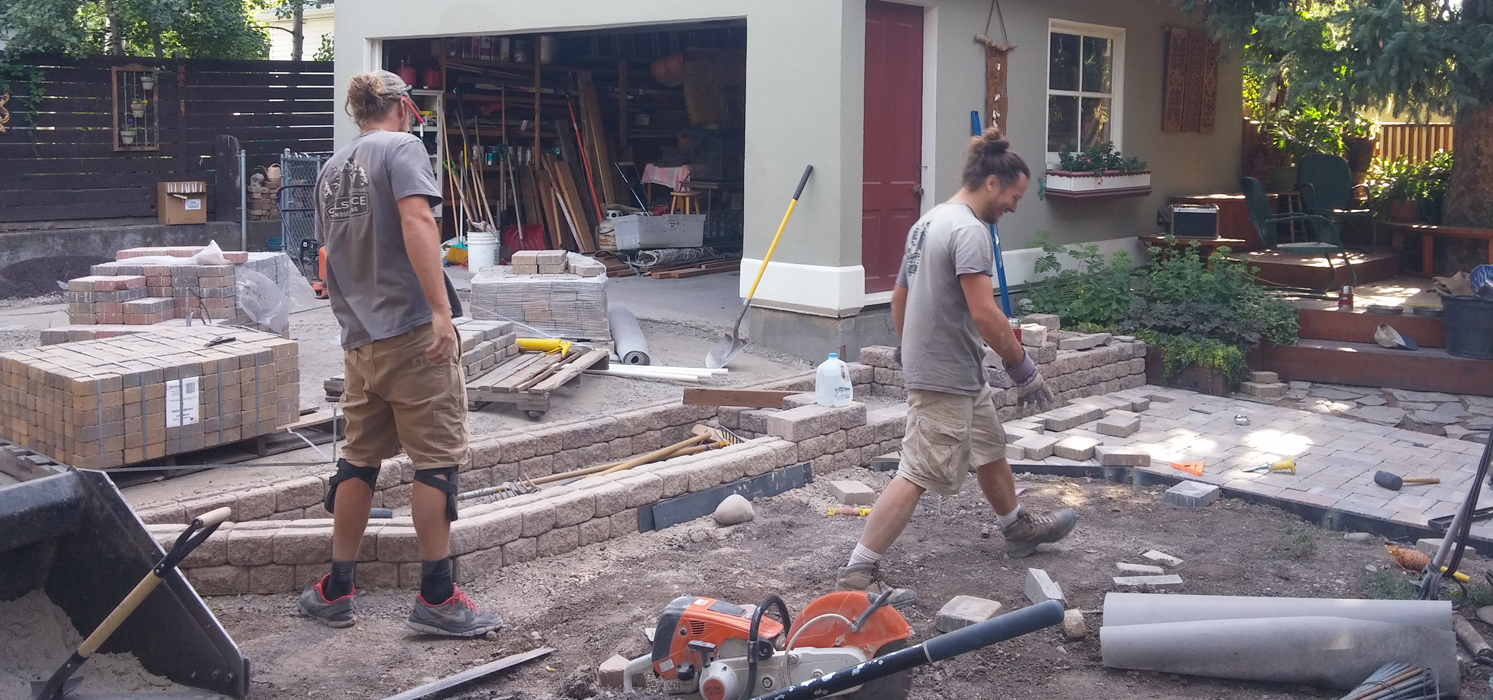 Landscape Job Big Sky, MT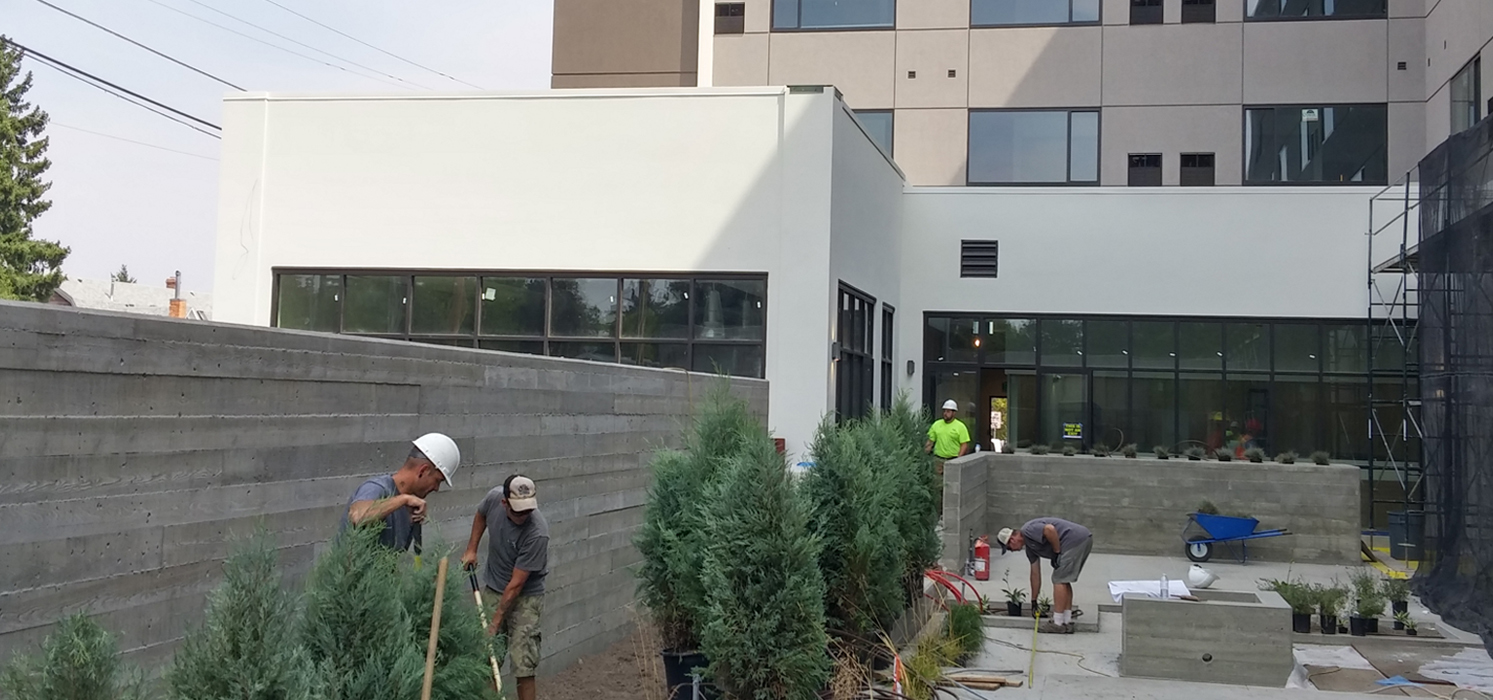 Landscape Job Big Sky, MT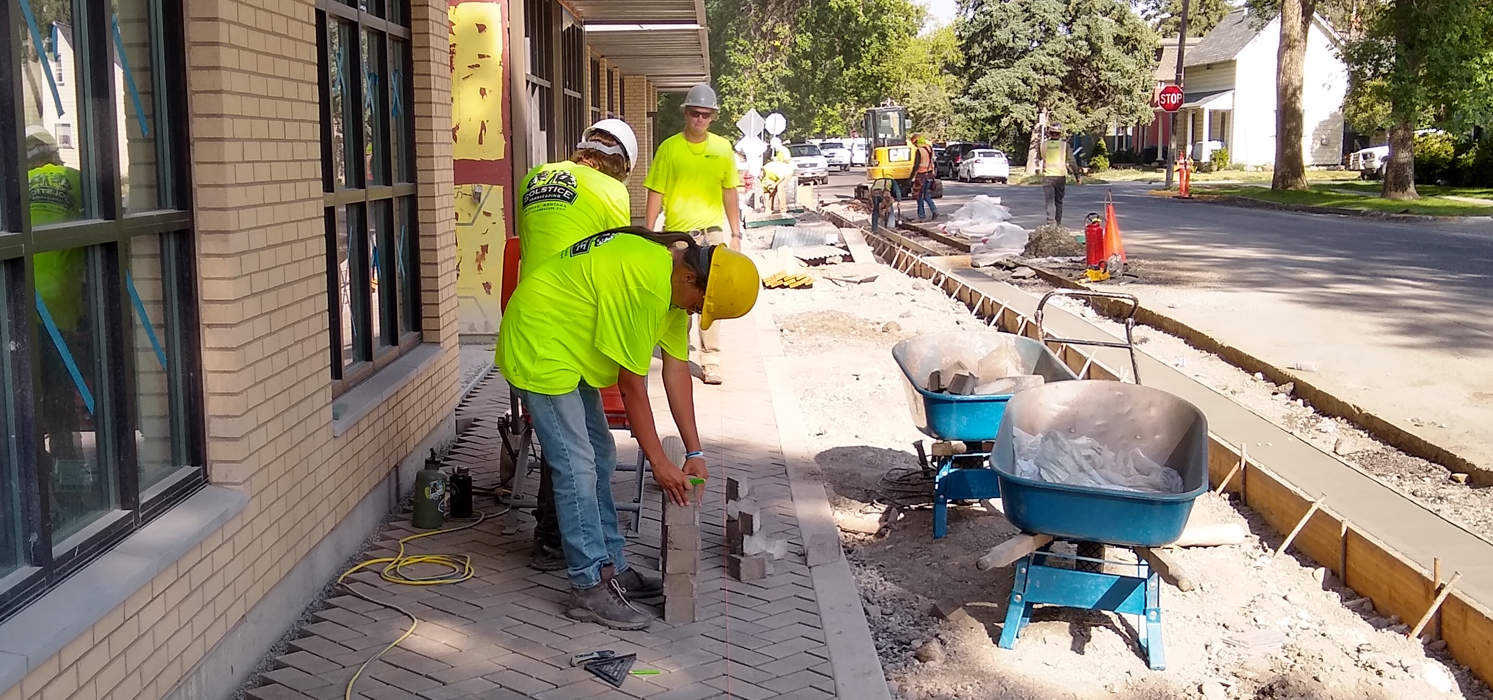 Landscape Job Bozeman, MT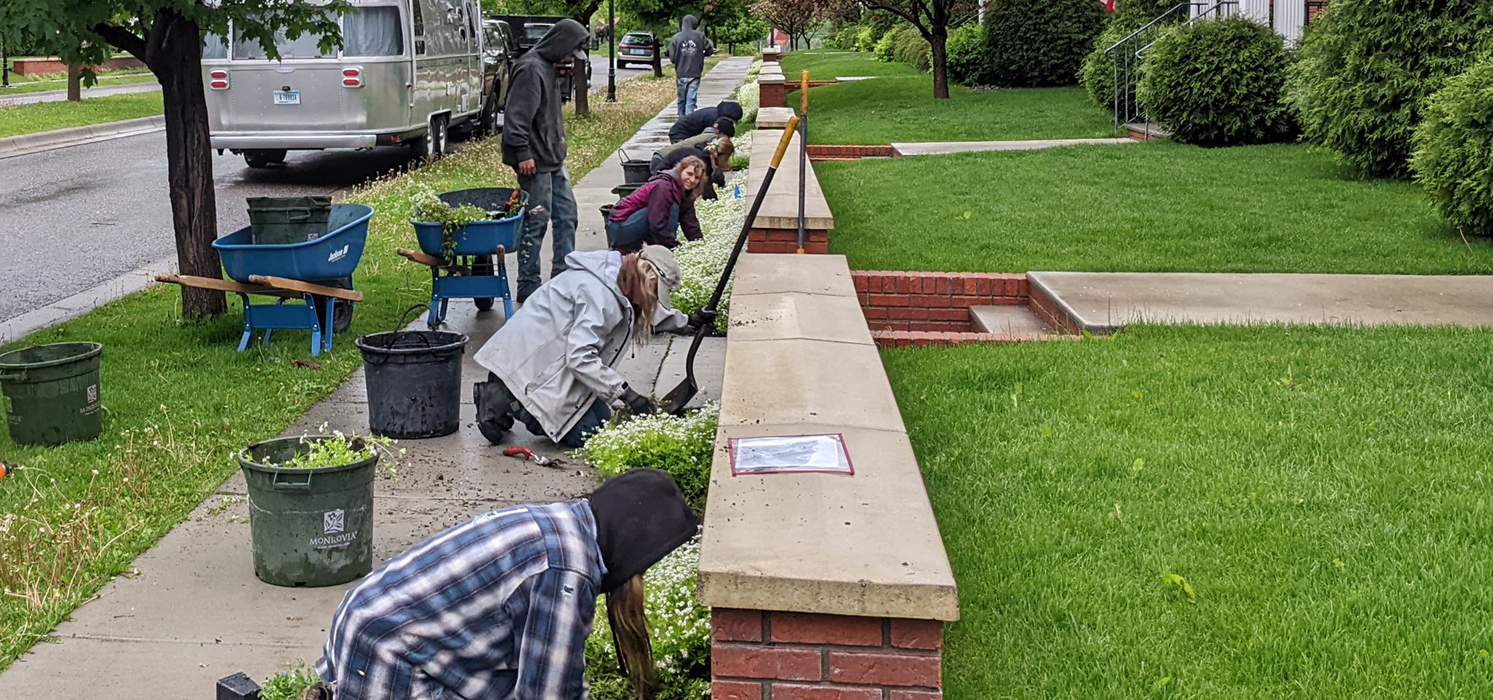 Landscaping Jobs in Bozeman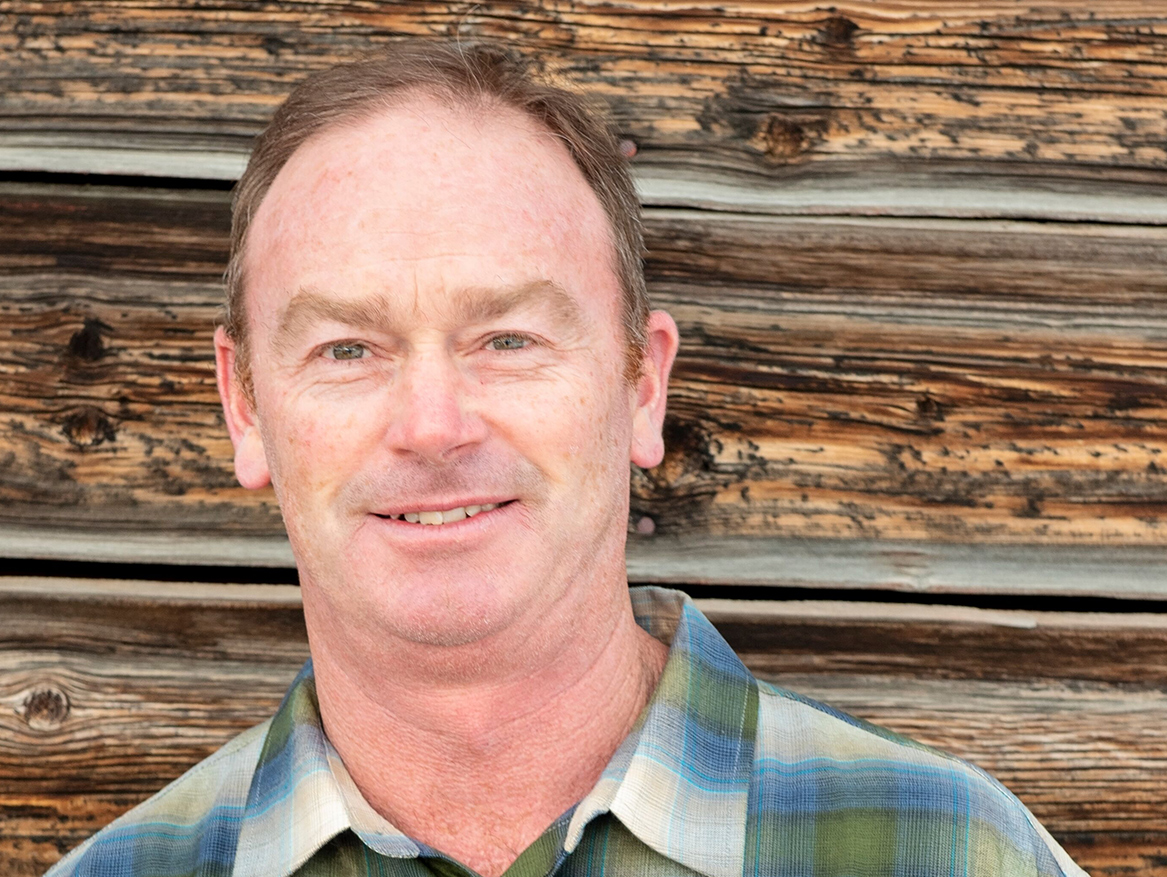 Geoff Hammond
Co-owner – Business Operations and Project Management
Geoff grew up in Southern California and moved to Bozeman in 1997. He has a B.A. in English Literature from MSU, Bozeman. He started Solstice Landscaping in 2002 and has a combined experience of 18 years in landscape design, landscape construction, business management, and project management. Geoff enjoys fishing, the outdoors, traveling, and most of all spending time with his wife and two daughters.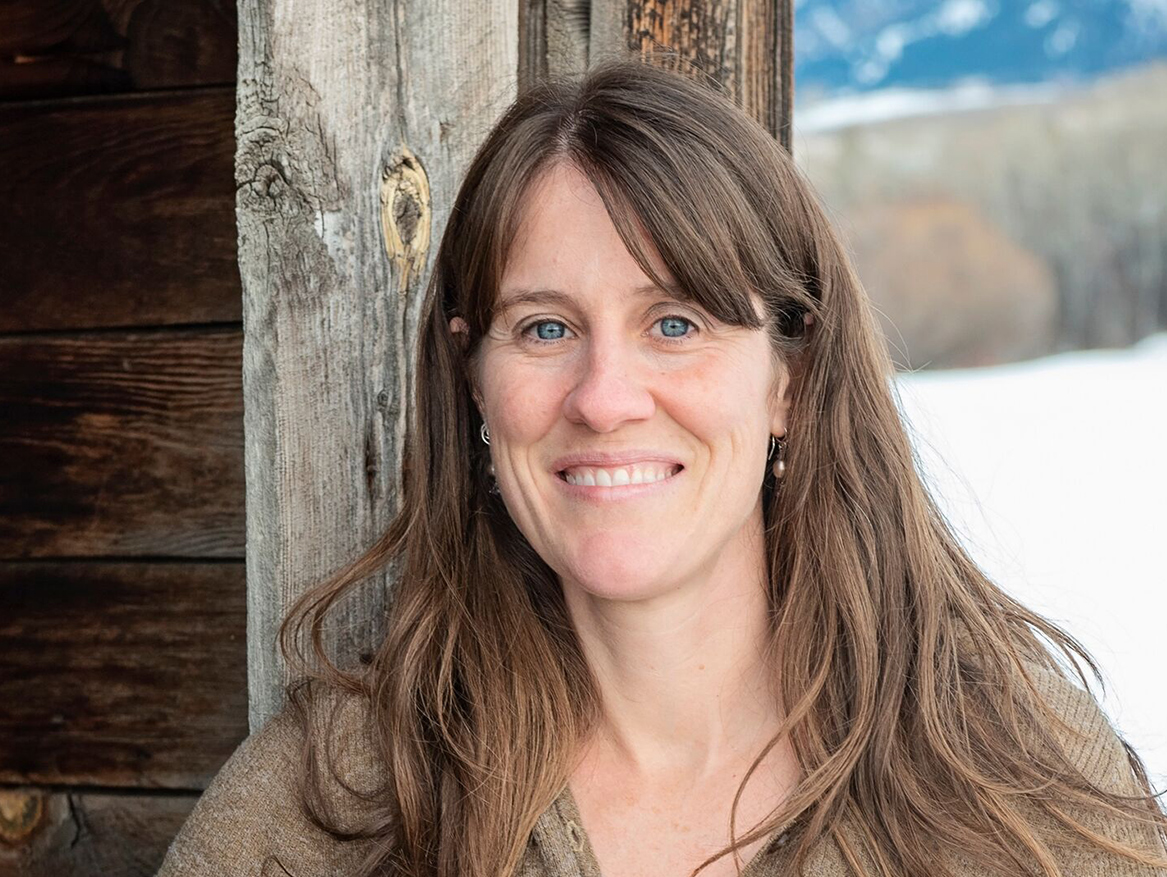 Grace Desmarais Hammond
Co-owner – Finance and Administrations Manager
Grace grew up in Western Massachusetts and moved to Bozeman in 2000. She has a B.A. in English Literature and a B.S. in Wildlife Biology. Grace has spent much of her career working in the field of wildlife and habitat conservation in and around the West. She has been working for Solstice Landscaping for 12-plus years and is Solstice's chief financial manager and administrator. Grace enjoys playing guitar and cello, gardening, traveling, spending time with family, and hanging out with her two girls.
Heather Bosley
Administrative | Accounting Manager
Heather has over 20 years of experience in accounting and related fields.
Errol Schumann
Operations Manager & Professional Landscape Designer, LEED AP.
ICPI Certified Concrete Paver Installer
Errol has been in the landscaping profession since 1996 with roles including landscape construction foreman, landscape maintenance foreman, landscape architect, and landscape designer. Errol earned a B.S. in Landscape Architecture in 2004 from Colorado State University, he's been a professor in the Landscape Design Program at Montana State University (Go Cats!) and has designed and managed for many great Colorado and Bozeman firms!  Errol is a Certified Concrete Paver Installer by the Interlocking Concrete Paver Institute. Before finding his passion in design-build landscaping where he is more hands-on with owners and the built landscape, he was a landscape architect in a large Colorado design firm where he was part of teams who envisioned new community parks and open spaces, rec-centers and resort landscaping for projects throughout the nation.  Errol shows thoughtfulness, professionalism, and dedication in all aspects of his many roles as a leader of the Solstice team. He has a knack for crafting visions that regularly exceed clients' expectations by bringing various elements together to create original, beautiful, environmentally-sensitive and lasting landscape designs. If not at work you will find him playing with his family and dogs and chickens, digging or harvesting in his gardens, tying flies, pursuing big game, playing in the powder, remodeling his home, enjoying live music, or on the water in pursuit of trout.
Danny Wagner
Project Manager | Snow Removal Manager | Landscape Foreman
Danny grew up in the Midwest and moved to Bozeman in 2013 to enjoy Bridger Bowl and all that the "Big Sky State" has to offer. He joined the Solstice team in 2014 and has been an essential team leader and has managed many of Solstice's high-end landscape installs over the years. Danny's outgoing and patient nature makes him a favorite of crew members and clients to work with. Outside of work, Danny enjoys getting out in nature with his partner, Megan, and pup, Casper. His hobbies include snowboarding, rafting, climbing, dirt biking, and rock hounding! Fun fact, Danny has been growing his groovy dreadlocks for over 10 years! 
Eric Cale
Project Manager | Snow Removal Manager | Landscape Foreman
Eric Cale, a Bozeman native, joined Solstice Landscaping in April 2019. He graduated from Colorado Christian University in 2006 with a B.S. in Business Administration with an emphasis on Business Management. While working and helping to better Solstice, Eric has become a proficient patio and flagstone installer. He is also a well-rounded landscape installer and project manager. Eric has worked in landscape maintenance and installation since 2007 and worked for Regis University in Denver as the Landscape Lead Worker. While there he worked to enhance the arboretum, maintained all the sports turf, and oversaw the general maintenance of all hard and softscapes campus-wide. Our team and customers love working with Eric.  Eric and his wife chose to leave Denver and move back to Bozeman to enjoy a better quality of life with their daughter. When not working, he enjoys spending time with his family, backcountry skiing, hiking, fishing, and chasing any of the numerous big game opportunities in Montana that he can get a tag for.
Theodore DeTavernier
Shop & Fleet Manager | Irrigation & Landscape Foreman
Teddy grew up in Ashland Montana, a small eastern Montana town, then moved to Bozeman to attend school at MSU. He has over 15 years of experience in this field consisting of landscape maintenance, irrigation design/installation/maintenance/repair, and landscape construction. He began working with Solstice in 2015. He is responsible for managing irrigation & landscape projects as well as maintaining our fleet and equipment. Teddy is liked and respected by many of our crew and clients for his thoughtful and genuine nature. Teddy values spending time with his family and getting outdoors in his off time.
Jesse Boone
Project Manager | Yard Manager | Landscape Foreman
Jesse grew up in the agricultural Columbia Basin of Eastern Washington. In 2020 he and his wife moved their family to Bozeman to join the team at Solstice and raise their boys in the outdoors. With his positive, can do attitude and leadership, Jesse has climbed the ranks quickly to be a key player of the Solstice team.  He earned a B.S. in Business Management and brings experience in organic agriculture and composting. His passion is his family, beautiful wife, and two young boys. Outside of work, he enjoys hiking, chasing elk, and bluegrass music.
Ronnie Peppers
Landscape Foreman
Ronnie grew up in various places in Montana and spent most of his time living in Arizona City, Arizona, and Belgrade, Montana. He graduated from Belgrade high school in 2018 an rocks as a Landscape Foreman!  Ronnie joined the Solstice team in 2022 and has previous experience and a background in private contracting, private housekeeping, and property maintenance, and has three years of landscape installation and maintenance experience. Ronnie has a genuine and caring heart. His calm and reassuring demeanor is respected by clients and teammates alike. In his free time, you can find Ronnie enjoying the outdoors fishing, hiking, camping, and riding. 
Tyler Kennedy
Landscape Foreman
Tyler is a born and raised Montana native from Glasgow, MT. He made the move to Bozeman where he gained experience in landscaping, construction, and carpentry. In 2022 he joined Solstice and brought four years of landscaping experience with him. Tyler is respected by his teammates and clients alike as a hard worker with a can-do attitude and a desire to learn. Hew has quickly proven his value as a foreman and talented equipment operator.  In his off time, Tyler enjoys fishing, hunting, snowboarding, and his newest obsession, snowmobiling.

My wife and I recently hired Solstice Landscaping to install a new patio and perennial beds. Errol was easy to work with during design and installation of the project. The Solstice crews were on time, hard working and did a beautiful job. We are very satisfied and happy with the quality of work. The project even came under budget! Without hesitation we recommend Solstice Landscaping for your project needs.